Post by eris on May 15, 2017 17:30:04 GMT -6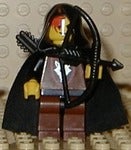 Mother and Zeb, with Streetwise and Bribery, nose around the underworld side of things and see if they can find out more about the Lombard Clinic.
Victor and Sharron both use their JOT skill to try hacking into the data net to get more info about the clinic.
Logan rents a van and then helps Henry get the ship ready for a quick get away if needed. Logan will see that the Life Support is loaded and ready to go, I assume Henry will see to the fuel and look into getting a flight plan set up in case we need it.
We'll meet at the
SHIP
after finishing our tasks, share what we've learned and then see about raiding the clinic.
How does that all sound?
Life support will cost 20kcr (2 kcr per stateroom occupied or not, you have 10 staterooms)
You will need a Jump Cassette since you don't have the Generate program (10 kcr)
Streetwise to find info about clinic (with Bribery as backup if needed) (roll 10 + 1 vs 8+ succeeds): Mother and Zeb learn from Elmo that the clinic is not well liked, but for some, it is the only place they can get care. Every once in a while, someone disappears after a visit to the clinic. Elmo has heard they surreptitiously test people for psionics and if someone shows potential, they take them away to Bastinadi.
The attempt to hack into the data net (roll 10 vs 8+ succeeds) shows information about licensing and such. There is also notes that apparently the authorities have been watching the clinic, looking for illegal activity. A professor at the University of Ludgates is listed as a contact due to what he and his students have uncovered in their survey of the indigent population. There is a note that psionics might be involved.
We have about 175,000 Cr, if we pool all of our money.
If we're continuing with this hunt, we can try to find Janet here before she is shipped off to Bastinadi, but failing that we'll have to go there. It's a J2 from Ludgates to Bastinadi with Cheapside the J1 link between the two.
So, what now folks? Do the raid and see if Janet is still in the Clinic? Get a cargo, and jump tape, and jump to Cheapside then on to Bastinadi?
We've got to earn some dough folks. Our funds won't last long if we're travelling.