Post by jeffb on Jun 20, 2021 10:07:58 GMT -6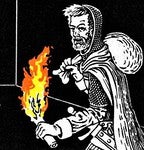 This
is what I found. Dan Proctor, of Labyrinth Lord fame, wrote on the OSR for his blog, in 2008. Before 5th edition, before G+, before Matt Finch's Old School Primer, Dan Proctor explains the importance of WOTC marketing, the difference between new and old school players, and the future of the OSR.
Enjoy!
It's interesting to read, but I guess nothing I'd not already known or experienced over all these years.
I think the one area that Dan mentions as being a goal of the future, never really came to fruition- that is getting the OSRcclone rulebooks on game shelves. Certainly it happened, but not to the extent in market penetration of physical stores that they were hoping for. They needed a much better and focused effort, and I'd say Goodman Games with DCCRPG was the only really mover and shaker there. Joe built a big community online, with perks for gamers, and store owners to play and run the games at their local establishments. Frog God essentially pushed S&W to the back burner and instead Pathfinder, and then 5E became their focus. BFRPG has remained it's own little niche of a niche, and LL faded away for the most part.
The OSR "movement" and "community" has mostly remained an online thing people participate in (while running games at home). It was just as easy for the creative types to create their own OSR game, as it is to produce a adventure or setting book, and they started "hawking their wares" online and creating sub communities and "fandoms". KS has been the real method of distribution for any big print projects, or even small ones0Not the retail mom & pop stores that people like Dan P were wanting to "crack". Because of no central vision, or no one system that carried the day, the OSR became more and more fragmented, in products and attitudes (as we can witness here in this thread). And this is why many people like myself no longer feel invested. It's not a bad thing, or a good thing. It's just a thing.
I get the feeling some people in this thread feel that they are being judged on their amount of, or lack of, investment. Not the case. It's just a fun poll, no need to be wringing hands or having an internal struggle about how to vote, folks- it's just a make believe game about elves, dwarves and faeries while rolling dice. No need to take it so seriously.
I think
waysoftheearth
(correct me if I am wrong) and myself were just curious as to how much of the OD&D Proboards community these days is skewed towards OD&D proper (or any TSR era D&D, for my own part) and it's History & discussion vs. those who visit to these boards because they are* playing clones/inspired bys, buying OSR published materials, BLOGing in the OSR sphere, publishing OSR materials, etc and have an interest in OD&D (however great or small) because it is the the root of these OSR games and product.
*any and or all of these things- it's not a parameter you have to conform to exactly