Post by Finarvyn on May 14, 2011 5:08:57 GMT -6
As I posted in the other thread, I bought the May, 1961, issue of
Fantastic
magazine. The one with "Scylla's Daughter" in it.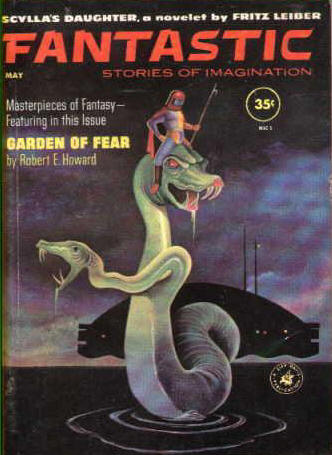 I finally finished another reading project and got around to taking this out of its protective bag. It's pretty fragile and I don't want to touch it much, but I did a comparrison between this story and the 1968 "The Swords of Lankhmar" to see how they differ.
"Scylla's Daughter" begins with a short intro paragraph put together by the magazine's editors:
The fleet was the third sent to tribute to Morvel. On the foredeck, the captain told how the first two fleets had vanished, and a seaman's body gnawed. "By fish" asked the Mouser. "Sea-birds?" Fafhrd inquired. "Dragons?" suggested the Demoiselle Hisvet. And so Mr. Leiber begins this incredible novelet of the world of Lankhmar.
As was suggested (by Falconer?) "Scylla's Daughter" begins with "With the motherly-generous west wind filling their brown triangular sails, the slim war galley and the five broad-beamed grain ships, two nights out of Lankhmar, coursed north in line ahead across the Inner Sea of the ancient world of Nehwon." This is the first paragraph of chapter 2 in "The Swords of Lankhmar."
I tried to do a line-by-line check as best as possible, comparing it to my Ace paperback version from the 1970's. After a while I was just checking the first word or two of each paragraph to see if any had been added or deleted. Both versions appeared to be identical.
The final paragraph of the story reads: "The Mouser, running his left hand back through his hair, felt a short, straight, rounded ridge in his temple under the skin. He knew it was Hisvet's smooth silver dart, there to stay." This is the last paragraph of chapter six of "The Swords of Lankhmar."
So, to summorize: If you have "The Swords of Lankhmar" and want to re-create "Scylla's Daughter":
* Ignore chapter 1.
* Read chapters 2-6.
* Ignore chapters 7-17.
That's mostly it. "Scylla's Daughter" doesn't contain any chapter headings and and has a few extra blank lines inserted into the text to break up the sections a little, but textually you're good.