Post by scalydemon on Jan 23, 2014 19:31:17 GMT -6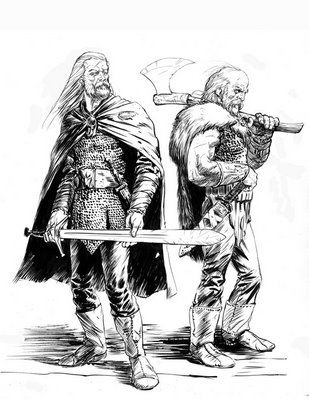 Please post your characters here.
Character creation would be
3d6 in order, and then you get to add 2 to one dice roll of your choosing, and add 1 to another. Max hit points at 1st then roll for the rest.

Starting gold will be low, 50gp - and you will be expected to 'equip' your characters as you will be heading out on an expedition of sorts into the Mountains and foothills of the interior Broken Coast region

Besides the variant class, The Burglar (from AFS Magazine issue#4 being available to play, you could also play a Witch Doctor. The details of the Witch Doctor are in Fight On! #12.
If anyone doesn't have access to either of these variant classes and wants to play one I could email you the info as a word doc if you PM me your email address
Prefer an all human party and you will be from a city in Hyperborea you can pick or I can roll for
Basic format to use:
Holmes D&D Dwarf
HP: 6 AC: 2 XP: 0
Attributes:
STR: 11
INT: 10
WIS: 11
DEX: 11
CON: 12
CHA: 9
Saves:
Death Ray or Poison: 10
Magical Wands: 11
Paralysis or Turn to Stone: 12
Dragon Breath:13
Rods, Staves, or Spells: 14
Languages: Common, Alignment
Appearance: Male, Decrepit, Scant Clothing, Ugly
Equipment:
* Plate Armor
* Shield
* Sword
* Dagger
* 6 Torches
* Backpack
* Waterskin
* 1 Week Iron Rations
* 10' Pole
Monies:
* 4 gp