Post by countingwizard on Feb 4, 2020 9:10:23 GMT -6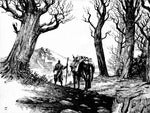 btb D&D requires one turn of rest after every six turns (which could include turns of combat) or two turns of rest after flight/pursuit (which is variable but could be as little as one turn).
In contrast Chainmail requires one turn of rest after five turns of movement, or a lesser combination of movement with melee, or basically one turn of combat. Keep in mind Chainmail turns are one minute.
I highly doubt the post melee morale rules were used. The example is very similar to the "reaction table" mechanic. But, I think he was referring to the excess casualty morale which is easily ported over.
Either way, morale checks are only rolled after casualties are taken, fatigued or not. So, it becomes a matter of who can be the first to cause casualties that forces such a check. This becomes the only option if your movement rate is already reduced by half because of fatigue. Flight will not be viable in most cases.
It may help to ignore the time equivalents for one minute and consider game mechanic terms used to describe play: turns, rounds, and turn segments (a chainmail term used for each phase of a turn; e.g. move, missile fire, melee). Arguments involving scale usually result in a rehash of this type of argument:
odd74.proboards.com/thread/13836/faq-scale-20-fantasy-supplement
, which boils down to the game is played exactly the same no matter what scale is used for the figures or distance. Also this isn't about how most people ran it this way, or even how Gygax/Arneson may have eventually ran it in their games. This is about how to run it by the rules as written, which hopefully aligns to how Gygax ran the game the day he typed those rules. The idealized version in his head.
Please bear in mind I'm also trying to show new readers these ideas, so if I cover arguments you've already seen or over explain things, I'm not talking down to you.
p.25 U&WA, "LAND COMBAT:
The basic system is that from CHAINMAIL
, with one figure representing one man or creature.
Melee can be conducted with the combat table given in Volume I
or by the CHAINMAIL system, with scores equalling a drive back or kill equal only to a hit. Battles involving large numbers of figures can be fought at a 20:1 ratio, with single fantastic types fighting separately at 1:1 or otherwise against but a single 20:1 figure."
This quote indicates that the Chainmail combat framework is the basis for combat in D&D. D&D supercedes this system in a variety of small ways identified throughout the books, but most of it remains in place. Kills & Drive Backs = 1d6 of damage. Hits-to-kills are replaced with the appropriate d6 HD to determine hitpoints of a creature or player character. Rough time equivalents such as 1 turn = 10 rounds. You get the picture.
p.8 U&WA, The Move/Turn in the Underworld, "Movement (distances given in Vol. 1) is in segments of approximately ten minutes. Thus it takes
ten minutes to move about two moves
-- 120 feet for a fully armored character.
Two moves constitute a turn
, except in flight/pursuit situations where the moves/turn will be doubled (and no mapping allowed)."
From this we get 1 turn = 10 minutes; 1 hour = 6 turns.
p.8 U&WA, The Move/Turn in the Underworld, "Time must be taken to rest, so
one turn every hour
must be spent motionless, and double the rest period must be taken after a flight/pursuit takes place."
The phrasing of this leans could be either the 6th turn is rest or the 7th turn. The reason I say that it leans towards the 6th turn is rest, is because it could have been worded as "One turn of rest, spent motionless, must be taken after every hour..." instead. Also, the later wording for the rest required in wilderness travel is: p.17 "All creatures must rest after six days of movement." Gygax clearly could have written it a similar way if that is what he intended. Rest appears to be a way to include Chainmail "fatigue" into the non-combat exploration portion of the game, so I'm going to lean towards being consistent with Chainmail since the wording doesn't clearly contradict the Chainmail rule.
Chainmail does not require casualties for the post-melee morale check to be made. D&D doesn't mention morale at all except:
p.13, M&M, "Morale dice can cause a man or intelligent monster to attempt to surrender or become subdued.
in terms of non-player characters and men-at-arms having to make morale checks, p.13 M&M, "whenever a highly dangerous or un-nerving situation arises."
in terms of loyalty's effect on morale (p.13 M&M)
in terms of Drums of Panic's effect, p.37 M&T, "creatures who fail to make their morale throw to flee in rout (for morale throw use saving throw vs. magic)."
There aren't any rules in D&D or Chainmail that say fatigue effects movement rates. So that would be referee judgment.