Post by makofan on Dec 13, 2012 16:06:34 GMT -6
Information that may or may not be useful for adventure hooks
Military Makeup
The city is built on a man-made island just off the west bank of the river. All walls are 10' thick. The outer wall is 40' high with 9 towers – 3 of them at the drawbridge. Each tower has 15 heavy foot,12 light crossbowmen and a ballista.
The outer walls of the keep are 50' high and 10' thick. There are six towers, each with 15 heavy foot, 10 heavy crossbowmen, and a catapult. The inner keep walls are 60' high with six towers, each housing 10 heavy foot, 8 heavy crossbow and a catapult. Hargor has a royal guard of 25 heavy foot. He is rumored to have the most powerful wizard in the land living in the crystal tower in his palace.
The city proper has only about 20 constables to keep the peace. They usually wear leather and are armed with mace and shield. Both plate mail and spell-casting are illegal in the city without a permit.
Flandil learns a brief history of Verbosh from the guards. They used to work for Hargor the Complainer, the current ruler of the city. Hargor is a high level fighter with hundreds of thousands of gold pieces earned in an epic adventuring career. He bought the city by buying all the troops away from the previous ruler. Hargor is a complete a-hole, so it is hard to work for him, although the fact that he pays double wages compensates. He has a friend, Marcus of the Crystal Lake, who lives in the central tower and is reputed to be the greatest living mage in the kingdom and environs. Marcus does not see visitors. Hargor might.
Resident Mage: Markus of the Crystal Lake
The Black Tower of the Phantasamist is located 200 miles to the South along the Great Source River
The main buildings in the city are
1)Red Roc Inn (Tavern and Inn)
Proprietor: Geratol the Iron Willed
The place looks to be a favourite of guardsmen and constables and other semi-officials with a martial air. The room is dominated by the huge head of a roc, an eagle-like bird but larger than an elephant. Beneath it is a two-handed sword. The bar rests on the two claws of the beast, and the chairs and couches are all stuffed with the bird's feathers. There are a few tables free, but most are filled with men eating and drinking. Behind the bar is a large, hardbitten fighting man, and waitresses scurry about. There are no demi-humans in the place, and a few look around, annoyed, at the bellowing dwarf
2)The Lonely Hobbit Inn (Tavern and Inn)3)Constables Barracks4)Armorer5)Sword Maker
Proprietor: Shihon le Shorak

Dagger 3
Sword 10
Two-Handed Sword 15

Gallaine remembers passing a sword maker on the way here, so she retraces her steps. She enters a shop that simply has a board with three swords on it. Shihon le Shorack, proprietor, comes out to greet her. Behind him, you can see a few workers bustling about. "What can I do for you today, lass?" he asks
True Fang. Deadly blade it was. Glowed a nice green, like most powerful swords that refuse to align with Law of Chaos. Verbosh XVIII wielded it. Was last seen attempting to vanquish a red dragon in the southern mountains. Probably in the dragon's hoard now. Two hundred years ago that was, and that dragon would just be more powerful.
6)Red Axe Ale House (Tavern)
Resident mage: Mathan the Ancient
Flandil and Jariel stop into the Red Axe Ale House. Being mid-morning, it has just opened, and the crowd is sparse. This is obviously a dwarf hang out - the ceiling looks just high enough for a man, the booths are sturdy wood, and the seats are a bit low. Four dwarves sit at a table playing diamondback and drinking coffee, and a dwarven bartender is polishing the bar while he chats with an idle (dwarven) barmaid. In the corner, smoking a pipe, sits an old man with a long beard. The ale is great, but the food - not so.
Talking stops as the dwarves all stare, astonished, at two elves walking into their establishment. The old man looks up, and his piercing eyes search both of you. He smiles to himself keeps smoking.
Flandil chats with Mathan, who is amused to see an elf not only in the city, but in a dwarven bar, no less! Listening to Flandil's dilemma, he says "Ah yes, Aranthol is squeezing you, isn't he. You don't have too many options lad. Now I like the cut of your jib, so to speak, so I might do a favor for you. I have plenty of time on my hands, but my funds are not unlimited, and their are expenses in creating a book. Just the cost of the magical components is more than 2000 gold pieces, and then there is the labor...
I could copy my spell book for you, probably even do a spell per day. Hmmm. let's say 2 weeks, 3000 gold pieces, and you fetch the materials I would need. I'll do it right here in tavern. It might be fun
The dwarves are happy to see a dwarf from a different clan. These dwarves belong to the clan of the Bronze Hammer, a dwarven enclave in the East Mountains. You start talking about the area, and they relate to you a hair-raising story of how there is a tower to the North by Lake Schuwang-Nau that exudes an aura of fear. One of these days they'll get a band together and investigate, for there is sure to be lots of treasure there. They would need to have a legendary hero with them, though, they think.
Down at the Red Axe, Patronus and Kell find the dwarves thawing out a bit. They mention that 500 years ago, King Verbosh III hired dwarves to build the sewers under the city (of course, humans with their short memories have forgotten this). In fact, rumor has it that underneath the sewers, the dwarves built a crypt to house the King after his death, and even some high dwarf heroes were intereed there years later. If anybody remembers those legends, they may be interested now that the spiders are gone...
7)Silver Smith
Due to a silver shortage, the cost to get any weapon silver plated with this Silversmith is equal to tentimes its original cost in Book 1


Silver Plating:

Dagger 30
Sword 100
Two-Handed Sword 150
Hand Axe 30
Battle Axe 70
Mace 50
Morning Star 60
Flail 80
Spear 10
Pole Arm 70
Halberd 70
Lance 40
Pike 50
Arrows/Quarrel 5/arrow

8)Temple of Tyr
Proprietor: Helrak
Patronus wanders around town, and the only other temple he can find is the Temple of Tyr. He brightens as he recognizes another North god. The temple is small and dirty. An acolyte is trying to sweep the grimy stone floor of the foyer as Patronus enters. Inside the temple, he sees a main chamber with a statue of a war god with upraised sword. On the walls are poorly painted murals of berserkers in battle with giants.
Just finishing up his private worship is the curate. He is missing his left leg, and uses a crutch. He is also ugly and worn-out looking. He sees Patronus and calls out a friendly greeting
Helrak greets Patronus. "Your god is for order and obedience, mine is for slaughter, courage and the lust for battle. There are no doughty followers of the berserkergang in this town. My only friend of note is Marcus of the Crystal Tower, and he is as chaotic as any Tyrian fighter. No, my friend, I have no armies to lend you. What you choose to do, you must do as your conscience tells you. But beware, I have heard of fouler things than spiders down there."
"Unfortunately, my powers do not extend as far as poison, but I do have Holy Water to sell that can harm the restless dead. As for worshipers, they are too fierce to be tied down to routine. They simply come to donate to the temple, and reverence our great Lord."

Vials of Holy water 25
Heal potions 150 gp

9)Bowyer
Proprietor: Darsel of Fin

Short Bow 25
Long Bow 40
Composite Bow 50
Light Crossbow 15
Heavy Crossbow 25
20 arrows 5
30 quarrels 5
Silver-tipped Arrow/Quarrel 5
Glass sling stone filled with oil 25
Glass sling stone filled with Holy Water 25

The bowyer's shop is made of warm, comforting wood. The proprietor looks up and smiles at the elven lass. Gallaine is startled when she realizes that the proprietor is an elf, but as large as a human. Could this be one of those whispered-about half-elves?
"Welcome to my shop. I am Darsel of Fin, maker of fine bows and specialty ammunition. How can I help you today?"
He continues in the common tongue of men. "I have bows of elven yew, both long and short. I also make crossbows and slings. Guaranteed not to break for one year or your next bow is half price. The special ammunition I have is my sling stones. I have silver ones for 5 gold each.
There are some spiders that are rumored only to be affected by silver weapons these days. I also have special glass stones filled with oil or holy water, at 25 gold each. And of course I have silver arrows and bolts
10)Balashei Bar (Tavern)11)The Greater Demon Exterminating Company12)The Dancing Horseman Ale House (Tavern and Inn)13)Happy Lady Bath House (Tavern and Bordello)
Proprietor and Resident mage: Rasha the Temptress
14)Shield Maker
Proprietor: Kalenel the Cross

Shields 10
Decoration 2

He is a slave driver - literally. His five sons help him run the shop, where most of the work is done by goblin slaves. He sells shields of all shapes, sizes, colors, designs and materials
15)King Verbosh XXXI16)Banker
Proprietor and Resident mage: Richolan the Shifting
There is a very safe bank in Verbosh - never been robbed. Banks money for free if over 100 gold. Will make loans, and will make change for 4% fee
17)Morning Star Bar (Tavern)18)Butcher19)Temple of the Spider God
Horman, the High Priest
Patronus visits the spider temple and is shown into a cold-looking, purple and red-draped antechamber. A temple priest then explains to Patronus that a rebel Spider Cult is behind the attacks, and they are hiring adventurers to go beneath the city and fight them.
You gather that they are a strictly Lawful temple, a bit harsh perhaps, but in good standing with the magistrate and the city administration. King Hargor is a bit concerned they may be getting too much power.
Spider badges are the Holy Symbol of their religion, and identify their priests
20)Flying Falcon Inn (Tavern and Inn)21)Morning Star Shop
Proprietor: Pirendell of Paroa

Mace 5
2-Hand Mace/Maul 7
Morning Star 6
2-Hand Morning Star 9
Flail 8
2-Hand Flail 12

He has a staff of 10, a mixture of dwarves and humans, turning out weapons for the guards and constables and temples. He has morning stars, macers and flails, all in one-handed and two-handed varieties. He has no magic weapons in stock - the last two he had were bought by the priests of Yezud.
22)Baker23)Flower Shop
Resident mage: Narcoth the Nasty
There are two comely elf lasses that run a flower shop
24)Chain Mail Shop25)Warehouse26)Armorer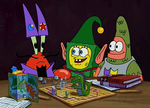 Alan of Arkos, a retired adventurer, is the proprietor
Flandil makes a fuss until he is seen to by Alan personally. "Do you have any truly
exceptional
weapons? None of these common run-of-the-mill workshop items."
PRICES:
Chain Mail 30 gp
Plate Mail 50gp
Shield 10 gp
Helmet 10 gp
Dagger 3 gp
Hand Axe 3 gp
Mace 5 gp
Sword 10 gp
Battle Axe 7 gp
Morning Star 6 gp
Flail 8 gp
Spear 1 gp
Halberd 7 gp
Two handed Sword 15 gp
Lance 4 gp
Pike 5 gp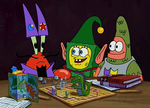 "I am currently in the market for ancient items, forged by legendary smiths of old." Flandil replies with a haughty sniff.
"Ah, we just churn out plain every day weapons, but they kill you just as quickly."
27)Mist Marsh Inn (Tavern and Inn)28)Clerical Supply Shop29)Tourist Information
Flandil checks out the Tourist Information Centre, run by two young men, obviously brothers. They seem rather unfriendly for a Tourist Information place at first! Adventuring recently killed their father. Flandil is such a nice chap, though, that they eventually thaw out. Flandil asks around if there are any other sources of magic boosk besides the Magic Shop.
Harold, the older brother, mentions that all mages must be licensed at a a cost of 10 gold pieces at the Magistrate's. He has a brochure on all the currently licensed mages in the city. He advises any newcomers who cast spells to register as soon as possible.
30)Tailor31)Tipsy Trickster Tavern (Tavern and Inn)
Proprietor and Resident mage: Sishirak the Sorcerer
This is a seedy dive - but it is well protected. Two ogres, towering over the crowd, work the door. They guffaw when they see Yhency. "An elf. Very tasty. Watch yourself elf. I might get hungry". You pass them before they can harass you some more.
The tavern is typical, but big. You can't count the number of people in here. Large trestle tables, bowls of stew and other cheap meals crowd the tables beside jugs and mugs of beer and sullen strippers performing table dances. Each knot of people looks furtive and like they are up to no good. Everybody stares at Yhency, but look away before he can catch their eyes. You see a male ascend the back stairs accompanied by a scantily dressed girl, and you guess her profession immediately.
Accompanied by your two henchmen, people part the way as you make it to the bar. You get acquainted with Shishirak the Sorceror, proprietor of this fine establishment. He is an extremely handsome man, tall, with a debonair mustache, and he looks as fit as back in the days when he had been adventuring. You spend a few gold on drinks, and fall to talking. He is so compelling that you are content to listen as he regales you with his story.
Shishirak made a fortune adventuring, then bought himself his own tavern so he could indulge himself in his favorite sports of wenching, drinking and gambling. He had immediately pegged you as an adventurer looking for non-standard help. He asks what you are looking for.
32)Trolls Trident Trap (Tavern)33)Mid Adventure Supply Shop34)Cloak Shop35)Rope Maker
Proprietor: Raoul Orac. He agrees to train Yhency with the lasso for 3 gold pieces
36)Lamps and Oil37)Magistrate
Proprietor and Resident mage: Heinrall the Grey
The magistrate is a strict fellow who takes Jariel's and Flandil's 10 gold, then gets their licences written up. While you are waiting for the clerks to scribe them, you converse with Heinrall. He tells you no spells are allowed to be cast in the city except for self defense.
The measure of the transgression determines the penalty, from fines to dismemberment.
Heinrall tells you he has a few spell books lying around that he is not using, collected back in his old adventuring days. One has Detect Evil, Detect Invisible, Locate Object, and ESP, and the other has Levitate, Wizard Lock, Detect Invisible and Knock. He could part with them for 2000 gold each.
He also thinks Nerojoule and Richolan may be useful. The other mages he does not know that well. Nobody has ever actually seen Narcoth the Nasty, he was registered by his wife a few years ago, and he does not hang around taverns.
38)Tin Smith39)Magic Shop
Proprietor and Resident mage: Aranthol the Blue.
Resident mage: Adam the Lesser Blue
Resident mage: Crimlon the Red

Level 2 Spell Book 4000
Level 3 Spell Book 8000
Level 4 Spell Book 16000

Scrolls: 300 gold/spell level

He sells complete level 2 spellbooks for 4000 gold, or individual spells for 600 gold each.
40)Mercenary Outlet
Proprietor: Sasalman of Sardoa. At the mercenary shop, if you want to hire people to adventure outside the city, you need to describe the service/quest and your needs and what you want to spend, then he locates the people for a 10% extra service fee
Jariel will offer a 150 gp signing bonus to an elf, with an additional 50 gp to be paid after the first successful adventure, plus the standard 10% henchman share. This will result in a 15 gp commission to Sasalman, with an 8 gp bonus after the first successful adventure.
Success being defined as bringing in at least 100 gp share to Jariel.
41)Singing Mountain Inn (Tavern and Inn)
The Singing Mountain Inn is clean and sumptuous. Waitresses wear satin dresses and crisp linen aprons. A room suite is 5 gp. The prix fixe tonight is cold smoked river oysters with a dill sauce, garden greens with a honey lime vinaigrette, venison loin in a sour cherry sauce with potatoes au gratin and fresh asparagus, followed by a raspberry cheese tart
42)Pet Shop43)Butcher44)Barber45)Curio Shop
Proprietor: Serlin of Rodes
The Curio Shop is run by Serlin of Rodes. It is like the most bizarre pawnshop you have ever seen.
"Come in, come in," he says. "Look around!"
46)Alchemist
Proprietor and Resident mage: Nerojoule the Unstable
Nerojoule is a nervous, fidgeting man with balding hair and eye-glasses. "Ah yes, good customers. Are you here to buy a potion? I just made a Flying potion, my best one yet, ha ha! Or perhaps to sell? I give excellent rates you know, yes I do, ha ha! Nerojoule the Genius, that's what they call me, ha ha !"

Identify a Potion: 50 gp

47)Jeweller
Proprietor: Borack Zope
The jeweller, a dwarf named Borack Zope, greets you. He is armed with sword and chain, as are the four guards by the door
48)Staggerin Drag Inn (Tavern)49)Theatre