Post by mythmere on Feb 27, 2011 19:43:31 GMT -6
Knockspell Magazine #5 is now available! 64 pages of articles and adventures for AD&D, Swords & Wizardry, and all kinds of old-school gaming.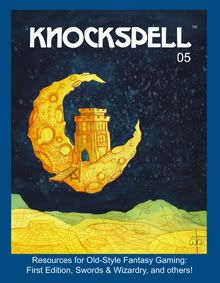 Available in both print or pdf at the Lulu store (http://stores.lulu.com/mythmere)
or at RPGnow as a pdf:
www.rpgnow.com/product_info.php?products_id=88793
The table of contents:
2 Editor's Note, Matt Finch
2 Adventuring at Conventions, Tim Kask
3 Teach Your Children, Bill Webb
6 Out of the Bag: Generating Encounters with Scrabble Tiles, Jim Pacek
9 Dark Gods, Al Krombach
12 WhiteBox Weaponry, Richard Lionheart
18 Where Dwells the Mountain God, Bill Silvey
28 Operation Unfathomable, Jason Sholtis
49 Weird Watery Magic of Vats and Pools, Richard Hart
53 Five Portable Rooms, Andrew Trent
56 Magic Items of the High Seas, James E. Bobb and Kim Nicholson
57 'Don't Touch Anything': Traps in Swords & Wizardry WhiteBox Edition, Scott A. Murray
59 Sorcerous Servitors, Jason Sholtis
61 NPCs of Note, Rob Hewlett
62 The Bestiary, Matt Finch
First reader review:
swordsandwizardry.com/forum/viewtopic.php?f=12&t=3208
I just downloaded, printed and read KS#5, and I liked it

The cover art is rather a departure in style from previous editions, but it's good. It has a storybook feel about it. I just love the illustrations to "Operation Unfathomable" by John Larry and Jason Sholtis; they're perfect for the gonzo adventure they depict -- the styles of the two guys are really similar, which keeps a good consistant feel throughout. The adventure itself looks like fun too; gonzo-style gaming may not appeal to everyone, but I really love it -- the weirder, the better.
The content of the magazine is a good mix; naturally it's unlikely that everything will appeal equally to anyone, but there's nothing in there I actively disliked. I think, if I had to pick one article from them all, I'd give the prize to Five Portable Rooms by Andrew Trent; it's a concept that could (and should) be expanded to a regular feature, and later be published as a complete self-contained resource of its own. The rooms are both directly useful and inspirational -- great stuff.