Post by mythmere on Oct 15, 2008 15:55:13 GMT -6
I just realized I can post this in general, so I'm posting it there, too.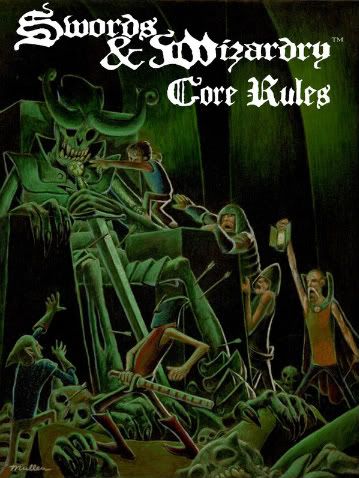 Here is where to download the free pdf:
Download Swords & Wizardry
Here is the Swords & Wizardry Home page, which accesses the forums as well as the game's supporting products (including the .doc version for cutting and pasting house rules):
www.swordsandwizardry.com
The print version is available through Lulu at
Swords & Wizardry Storefront
As a lot of you know, Swords & Wizardry is a retro-clone of 0E, although it's not as tight as OSRIC is with 1E. The main differences are that there is only one class of saving throw, the initiative system (there's not one in 0E) is rudimentary (since everyone had to house rule this or use the CM rules, I just used a least common denominator) and the XP bonuses are constructed differently (but with similar results) - for legal reasons. These core rules are a mix of the White Box classes (only), the GH system of hit dice and variable damage by weapon, and spells from across the supplements.
In addition to the normal reasons for creating a retro clone (organized/beginner-accessible rules, shared brand name, preservation of rules in free format), Swords & Wizardry is a project to re-initiate the "hobbyist" approach to OOP gaming, the idea that you can tinker from the ground up and make the rules fit any sort of fantasy you want. Too many gamers (and this is not limited to modern gamers, I have seen it on OOP sites as well) approach games like consumers. If it's not in the rules, it's not in the game; if it doesn't fit into the rules, it's not in the game; if the rules aren't completely specific, they're bad rules - you see what I mean by this mindset. But games used to be approached with the ASSUMPTION that the GM and players were going to hack them apart and make them fit the desired effect. The same way we'd take rules for Napoleonic wargaming and tweak them into rules for Space Marines or 52mm green plastic army men.
I have spend an enormous amount of time over the last 6 months or so preparing the rulebooks (with especial thanks to Red Priest, Finarvyn, Philotomy Jurament, and Jerry Mapes) and building up a body of supplemental resources such as new spells, city encounters, etc). The intro module is just around the corner, and an expanded monster book for 0E is getting close to being done. My goal here is to assure those who want to be playing a living game that 0E is once again a living game supported by an active publisher.
Knockspell Magazine will also launch - James Maliszewski is the editor - in due time. Most of the real work on the magazine has proceeded slowly so far, since the rules weren't up yet. Knockspell will cover all OGL fantasy retro-clones for which we receive permission to use the game's name, and by extension it will be a magazine for 0E, 1E, and Holmes/Moldvay Basic.
I invite anyone to the project's forums at
swordsandwizardry.com/forum/
who would like to check in and find out more information.