Post by derv on Apr 25, 2020 6:49:31 GMT -6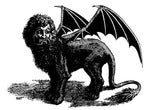 I'm more agnostic now myself after looking over all of this in detail.

I took a look at Warriors of Mars, which uses a similar turn sequence that is clearly modeled off the one in Chainmail. There, Gygax & Blume use the exact same "turns" and "rounds" terminology, but are clear that there is only one round of melee each turn, like the earlier rules in the Domesday Book cited above:
Continuation of Melee: Each turn there will be one "round" of battle when a melee is progress [sic], and casualties will be extracted as explained above. The melee will end only when one side or the other has a morale failure. Morale is explained hereafter.
The rules further go on to refer to the "first round of melee" and "first and second round of melee" despite these happening in different turns.
So here there is but one round of melee per turn, and melee continuing means that it continues in a different turn, and a "second round" of melee means that the melee was continued to a new round in the next turn.
Of course, Warriors of Mars has only 10 second turns, so this could be a change from Chainmail (i.e., because turns are considered shorter in WoM, melee can continue between them).
The lack of such a clear statement in Chainmail could be telling - or an omission!
Two things worth mentioning in WoM. One, it does not contain a post melee morale check. It simply uses a check similar to the excess casualties check in CM. And two, at 1:1 the rules state 2 rounds of melee per turn. So, the game still contains ambiguity about the duration of a round. I don't think they thought of rounds in terms of time in either of these games. It was simply an exchange meant to bring about some type of resolution.
I will admit there are some benefits to allowing melee's to carry over to the following turn. Essentially it allows a player to bring up reserves to support an ongoing melee. Also, infiltration rules take on a greater significance. I should add that CM's post melee morale does allow for this possibility, but it assumes casualties have occurred.
Consequently, you will notice similar descriptions for overlap and flanking to CM without the detail of restrictions on movement. Like CM, this happens after the first round of melee, but presumably the restrictions are not spelled out because there is a new turn of movement.
A final note that should be said about WoM mass combat rules that distinguishes it from CM is that it is entirely deterministic. Casualties are guaranteed to occur each turn (round) of melee.