Post by Desparil on Sept 11, 2019 11:52:46 GMT -6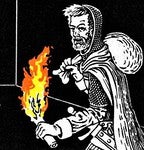 I think a whole league is too skeptical though, not least because it puts the armies out of visual contact. Open fields in Europe today rarely give you a 500-yard line of sight, let alone 3 miles, and it would have been worse throughout the middle ages. Plus, unless the commander has a significant height and visibility advantage from terrain, there is no bird's eye view of the field. Just as an anecdote, in my days in the SCA I remember noting how, when standing before a battle of 500 guys, it was impossible to tell how many fighters there actually were behind the front rank, let alone what they were doing. To me this fits very well with chronicle descriptions of skirmish screens being used to judge the enemy formation and tactics, and/or to mask your own. It also explains how things like 'Crusader formation' could be effective.
This aspect of the conversation resonates with me. I might not be able to incorporate the maneuvering and intelligence gathering aspects I'd like in the scale of a single tabletop battle. If I was devising an original scenario for my group, would that be excuse enough to introduce different scales unintended by the original rules? Or, are we just talking about relegating those new modes of movement to some descriptive text that sets up an otherwise improbable initial positioning of the figures on the map; and then it's formation fighting as usual?
I was suggesting the latter. If you wanted to make those other things part of the game, my suggestion would be to have that take place at a higher level of strategic resolution, which would then determine the actual battle scenario that gets played out using the lower-resolution miniature rules. I don't know if you're ever played Avalon Hill's Bismarck, but I'm thinking of something like that - where a large part of the game takes place on a map of the entire Atlantic seaboard, with chits representing ships, convoys, and planes, and movement is hidden for most of the game. Attacks involving bombers, destroyers, and submarines are all handled at this scale with simple D6 rolls, one roll per squadron or flotilla, but if two or more capital ships meet, then you pull out the hex grid and resolve ship-to-ship combat in more detail.