Post by Deleted on Oct 11, 2018 10:22:23 GMT -6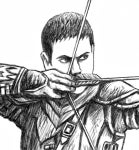 I understand that there is some interest in falsifying, as the original linked blog post says, the claim that "everything [Arneson] designed in Blackmoor must also be a derivation from Chainmail." Not that anyone actually maintains that, nor is anyone even holding a torch for the claim that experience derived from Chainmail, to my knowledge. But is Strategos A really "a more likely source for the application of hit points" on the strength of this single phrase that an elephant requires "5 hits to kill"? More likely than the rules Arneson characterized as "the basis of all our combat" in Blackmoor -- even if we want to caveat that with "at first" -- rules which describe a variety of circumstances where units could withstand multiple hits of damage before they perished?
This isn't a matter of something being suggested, it's just already there... to the degree that Chainmail is clear about what's there. The Ogre is a great example because the text goes on to describe how they take six hits in "normal combat" -- but slightly-magical elves can kill them in three hits and Heroes in one. So hits in Chainmail are, well, relative, I guess. There are threads elsewhere on this board trying to figure out how the fantasy system and "normal combat" were supposed to interface. I have no doubt Arneson looked at this muddle and substituted in a variety of alternatives over time, and could have drawn on all sorts of existing systems for inspiration in that. I still don't understand what is supposed to be unique to Strategos that can be discerned in Blackmoor's resulting treatment of hits.
You are ignoring the Pathology of Behavior within the Twin Cities group.
They know Strategos intimately. Certainly their core group of Ref's do.
They are adapting that system from a very early stage. I would argue that as early as 1965 they are working on it. 1st person narratives support that. (It is always ironic how Gary Gygax accounts are never questioned, yet a slew of people from the Twin Cities are somehow in collusion to create false hoods when they make statements, but that is a side issue.)
Arneson and Hoffa exhibit an understanding of the need for a multi hit creature, the elephants in Strategos A. You have it, you know it predates Chain Mail.
The origin coming from what is very familiar to them seems most plausible. Strategos being the older text also gives it a certain cache historically.
Of course, Arneson also has his naval systems, so who knows. Yet, if I have a system for sword battles in ancient times, the difference mechanically between medieval and ancient isn't a very big mental leap.
If one is using your own methodology that you use in PATW, then if I have a piece of paper that shows X component that predates others, the result is a plausible connection between X and Y. Yet, you seem to be denying plausibility here, and that somewhat confounds me.