Post by Zenopus on May 6, 2016 21:42:30 GMT -6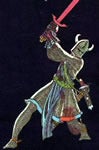 Here he is talking about names and places, this paragraph is examining Tolkien's "Farmer Giles and Ham"
Since The Silmarillion, with its developed nomenclature, was already in existence, it would be wrong to say that Tolkien in the 1930s was not interested in names. It does look, though, as if he was not sure how to bring them into fiction, especially if they were English names. Yet the point had caught his attention. As The Hobbit neared completion he focused on the problem with sudden clarity – as one can see from Farmer Giles of Ham, not published till 1949, but composed apparently in the period 1935–8, i.e. overlapping with the final production of The Hobbit (see Bibliography, pp. 73–4). This throws many interesting sidelights on Tolkien's fictional development. For one thing it is the only one of his stories set unmistakably in England, and while its history is that of nursery-rhyme* its geography is remarkably clear. Ham is now Thame, a town in Buckinghamshire twelve miles east of Oxford. Worminghall is four miles away and Oakley, which had its parson eaten, five. The capital of the Middle Kingdom, 'some twenty leagues distant from Ham', sounds like Tamworth, the historical capital of the Mercian kings, sixty-eight miles from Thame as the crow flies (a league, NB, is three miles). Farthingho in Northamptonshire, where once 'an outpost against the Middle Kingdom was maintained', is on a direct line between those two places about a third of the way from Thame – proof of the 'Little Kingdom's' lack of territorial ambition. Wales, where the giants live, and the (Pennine) mountains where the dragons live are on this parochial scale suitably far off. And when Farmer Giles refuses to listen to tales about the folk 'North over the hills and far away, beyond the Standing Stones and all', he means Warwickshire, probably, whose boundary with Oxfordshire runs by the Rollright Stones.
Otto, there's a nice map of that Farmer Giles of Ham setting by Pauline Baynes in
the 50th Anniversary Edition
of the book. She did the original illustrations for the book, and they brought her back in 1999 to do the map for the new edition. If you look at Google Images you can see a copy of the map that someone has posted on Pinterest.