Post by Vanquishing Leviathan on Jul 17, 2015 22:36:23 GMT -6
Making your own digest books is easier and cheaper than you think. If you've always wanted to create your own game books, read on!
What you'll need:
A word processer (MS Word is fine).
A laser printer that can print on both sides & toner cartridges.
A specialized stapler ($50) & staples.
A paper trimmer ($100) & extra blades.
A local office supply store.
Step #1. Printing & Folding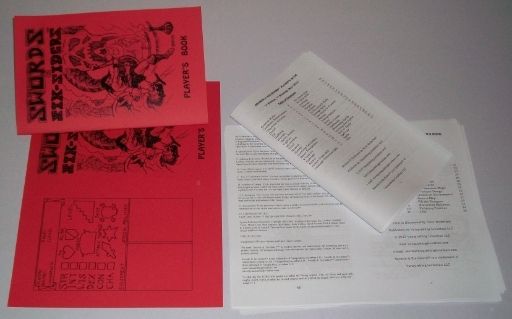 You'll first need to put the book document into booklet form (I use MS Word). When printing it, make sure you select under Print Options to print on both sides of the page, flipped along the short side. (You'll want a decent printer that can print on both sides, I prefer a B&W laser printer for cheap B&W printing.) This way, your booklet comes out printed in the correct order. Then all you have to do is fold it in half.
For covers, I use 65 lb cardstock. Rather than printing the covers myself, I have them printed at my local office supply store. I've tried printing them myself, but the cardstock was constantly jamming my printer.
Step #2. Staple
You'll need to buy a specialty stapler for this part (and staples). This is the most difficult step, because if the staple is just a little bit off, you'll have to scrap the entire booklet. (The book in this pic is one of my rejects; notice the staple is not quite on the crease of the spine.) To help ensure the correct staple placement, while holding the booklet in position with one hand, bring the stapler down gently with the other, to make sure it will staple in the right place. Once you've got it lined up the way you want it, staple it. I usually need to re-press the spine, as the stapling process can take some of the bend out of it.
Step #3. Trim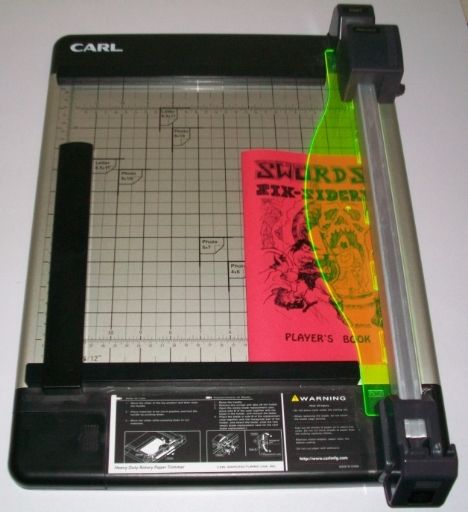 You'll need a paper trimmer, as shown above, since the pages will stick out at different lengths after its been folded into a book. The thicker the book is, the harder it will become to trim it, and there is a limit to how big a book you can trim. You will probably also want to purchase additional blades, as they can become dull over time. When trimming, I try to trim up to a sliver of the cardstock cover, so the pages and cover end at the same point. You'll need to run the blade back and forth a few times to make sure all of the pages are trimmed. After you've finished trimming, but before you remove the book, push the book slightly to the right before pulling it out to the left. This is an easy way to keep the trimmings from cluttering up the blade track.
That's it, enjoy your new book!
The Tools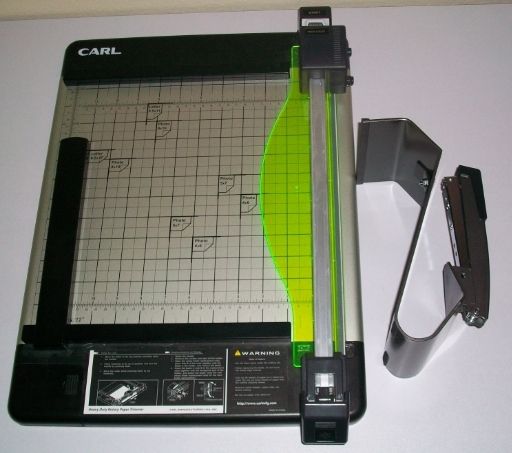 Many of you will already have everything except a specialized stapler and paper trimmer. The ones shown here cost a grand total of $150 or so.