Post by scalydemon on Jan 25, 2014 16:52:50 GMT -6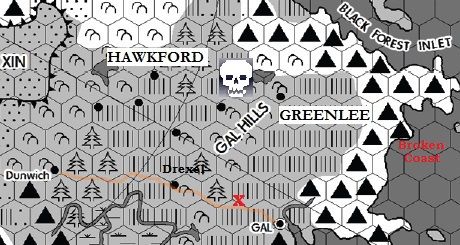 Mid summer, late July. The sun is a glowing red ball in the western sky as you continue travel on foot along the old two track road that leads roughly from Dunwich to Gal.
There are signs you may be nearing the Village of Gal (none of you have been to this area before but know Gal to be a Kelt-ish village of medium size). Sheep farms are more common now and you can see laborers in the fields and some houses.
You seem to trust much in the shifty reclusive Witch Doctor named
Cingetorix
that you met in
Dunwich
. It was he who told you of this purported for hire job of transporting some unknown crates to a City you never heard of called
Cron
to a man named
Bhengali Kesharamov
. Supposedly you are to meet with an intermediary once you get to Gal named '
Osric the Grey
' at a Tavern called the '
Laughing Hyena
' to take possesion of the crates and hopefully a beast of burden to carry them to Cron. The job is supposed to pay 500 gold coins when you deliver the goods, and there is supposed to be a small sum payable up front to allow for travel expenses.
You have been delayed en route having run into a strange adventure along the way that involved a tribe of Jackal Men and an underground Dungeon.
The Witch Doctor,
Cingetorix
shifts his mess of animal skins he wears as clothing and walks along broodingly.
"We are running behind. I fear our contact will not wait.."

Despite what he says it is getting dark and it looks like soon you will need to once again make camp.
What are your actions?