Post by waysoftheearth on Jul 29, 2012 1:33:10 GMT -6
One of OD&D's design quirks is the manner in which hand-to-hand combat damage scales up. In short, it doesn't scale gracefully. This might explain why subsequent attempts to "patch" the damage mechanics were made in Greyhawk, AD&D, UA, and so on...
In any case, while OD&D's damage system is elegant in the early game, it winds up being awkward by the end game.
Let's Look at OD&D Damage
Damage is based firstly on hits, the probability of these being determined by the attack matrices (complicated enough in themselves!). Then there is the possibility of multiple attacks per round, and then that actual damage per hit can include variable damage dice and variable damage adjustments.
That's a lot to grasp for a new player! And it's hardly surprising that subtle complexities arise from the interaction of these three mechanisms.
What It Produces
Let's look at the results. I've calculated the average damage per round (DPR) for all OD&D monsters and also for fighters level 1 to 12. Hit probability was the average of all possible target ACs (2 to 9) according to the appropriate attacks matrices, and damage was 1-6 points per hit except where M&T specified otherwise.
(Even with only 1-6 possible points of damage per hit, DPR also depends on the probability of scoring a hit, which is where the attack matrices come into it).
By comparing average DPR to the average HP for each monster, we can deduce the average
number of rounds required for any monster to slay an equivalent opponent (with equal HD and an average AC of 5.5, in fact).
These are the results:
TABLE 1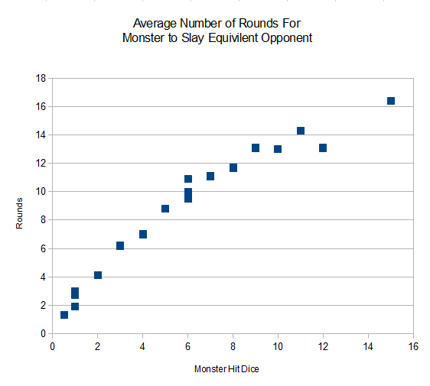 A fight between two Kobolds will last an average of 1 round. A fight between two hobgoblins will last an average of 3 rounds. Two gnolls will fight, on average, for 4 rounds, and so on. All the way up to the 15 HD purple worm which will take, on average, 17 rounds to slay an equivalent opponent.
So, as monsters increase in HD it takes them
longer
to slay their equvilent opponents. This effect would actually be exacerbated by the fact that higher HD monsters tend toward better ACs.
TABLE 2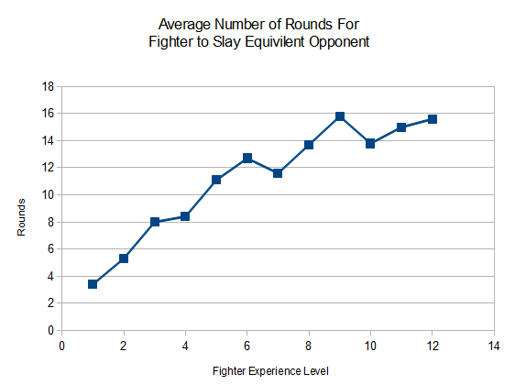 A similar effect is observed for fighters. Two 1st level fighters would fight for an average of 3 rounds. Two 2nd level fighters would fight for an average of 5 rounds, while two 9th level fighters would fight for an average of 16 rounds to get a result. (Note that fighters require longer to get a result than do monsters of equivalent HD due to their poorer attack matrix).
It is apparent that hand-to-hand combat between
evenly matched
opponents gets
safer
with increasing experience or HD. This takes the edge off combat and results in longer and longer melees.
I've
read
that this was a design goal. If that is so, then it was achieved rather roughly. Against equivalent opposition, the 4th level fighter is not tangibly better than the 3rd level fighter, while a 6th level fighter will outstay a 7th level fighter. Similarly, a 9th level fighter outlasts a 10th, 11th or 12th level fighter on even terms.
Moreover, it was done inconsistently. It "works" as designed for monsters that deal only 1-6 points of damage, but some monsters are specifically stated to cause more damage. These are charted below:
TABLE 3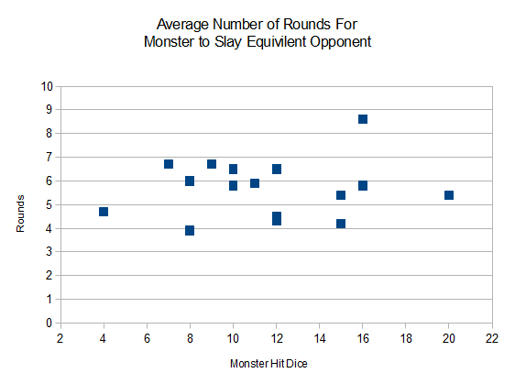 We see here that regardless of increasing hit dice, these monsters require a steady 4 to 7 combat rounds to defeat an evenly matched foe (air elementals are the exception -- and these were excluded from the chart).
Despite this going against the supposed design goal, it seems a much better model to me. Why should two evenly matched Lords take six times as long to resolve a contest as do two evenly matched Veterans? Why should two evenly matched trolls take four times as long to resolve a contest as two evenly matched goblins?
Moreover, what referee wants to bog his game down with a contest of arms that runs into 20+ rounds of combat? In my mind combat should be fast and furious, at every level. Evenly matched contests should be
evenly matched
and take approximately the same time, across the board.
If you're thinking
"What is this guy on about? That's how it's meant to be!"
then you need read no further.
If, on the other hand, you're thinking
"Yeah, that's always bothered me too..."
then read on!
Why Isn't It Working?
While the attack matrices allow for increased hit frequency with increasing HD or experience level, it is evident that growth in DPR does not keep up with growth in HP.
Increasing hit frequency is then combined with variable damage dice, and also with multiple attacks per round to exaggerate its effect of DPR. That's good, but...
1) Increased hit frequency is, to some extent, countered by that fact that higher HD monsters typically have better ACs. This results in an "arms race" whereby a better attack chart is countered by better AC, which is countered by an even better attack chart, which is countered by even better AC, and so on. This is why a fighter ends up requiring a roll of 5 or more on a d20 to hit AC 2, and why enemy therefore require negative ACs to challenge that fighter (of course none are given until GH).
Furthermore, the attack matrices do not scale gracefully beyond requiring a roll of 1 to hit. This imposes a "benefit ceiling" which falls around level 15 for fighters, and around 11 HD for monsters. While level 15 is high enough for most PCs, 11 HD monsters are not uncommon even in mid-level game (player levels 5 to 8, say).
2) Multiple attacks per round versus "normals" are allowed by the 3LBBs and this has a dramatic effect on DPR (not shown in the charts, above) combing more attacks with higher likelihood of a hit. However (excepting a few special cases) multiple attacks are not generally used. The power to "fix" the broken damage scale is largely set aside.
Having observed this, GH introduced multiple attacks for many more monsters, and AD&D made the fighter's multiple attacks per round applicable against all enemy with UA. However, the system of multiple attacks for monsters (and by implication, PCs fighting with two weapons) emphasises the need to identify specific attacks. No longer does a single attack roll represent general performance over a full round of melee, instead it represents a claw attack, or a bite attack, or a sting attack, each of which are uniquely identifiable in the melee. The result is that combat becomes less abstract, and also more challenging to manage. Instead of simply knowing that successful hits cause 1-6 points of damage, the referee now needs to know how much damage
this
particular attack does. Is this attack poisonous? Can this bite attack swallow whole? And so on.
3) Variable number of damage dice per attack, with possible adjustments, are applied to a distinguished subset of monsters in OD&D. In my mind these are the OD&D monsters for which damage "works best". EGG appears to have thought along similar lines, for in GH he extended the system, introducing variable damage dice for all monsters, and also for all man-type weaponry too. This mechanism was wildly popular, and has been a mainstay of D&D for generations since. However, connoisseurs of the beautiful simplicity of the 1d6 damage roll may lament the shift to the myriad combinations of other die rolls required by later iterations of the rules.
What Can We Do About It?
Ahhh, so now we get to the crux of it

As a rules tinkering junkie, the identification of any perceived flaw or weakness in the rules is an irresistible invitation to "fix it" with a house rule. This particular case is no different, so read on, if you dare, for my (completely theoretical, untested) fix...
My goals for this "fix" are:
1. Damage per round scales proportionately with number of HD so that evenly matched opponents are equally threatening to one another throughout the entire scope of the game.
2. Retain the beautiful simplicity of one hit, one six-sided damage die.
3. Retain the abstract nature of combat.
Here's how I propose it can be achieved:
*
Replace both attack matrices
with the first column
only
of Attack Matrix I (which is identical to the first column of Attack Matrix II). These "to hit AC X" figures then
never change
.
*
Every hit will cause 1-6 hit points of damage
. Yay!
* Damage per round progression is achieved, for monsters and PCs alike, by increasing
number of attacks per round
, as follows:
TABLE 4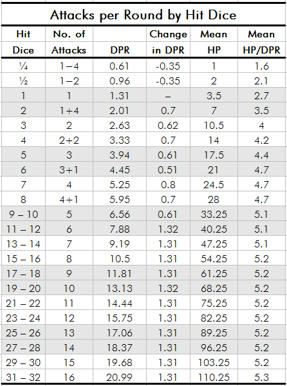 That is it!
The Hit Dice and Number of Attacks columns are all you need to look at. The remainder are informational only.
The first figure in the Number of Attacks column is the number of 20-sided dice to roll for attacks. If there is a second figure (such as +1, +2, etc.) it is the attack adjustment to add to all of these attacks.
I.e., 3+1 attacks per round indicates that three attacks are rolled with a +1 adjustment "to hit" on all three rolls.
This method is arguably simpler that the existing system, and it scales upward gracefully to 30 HD sea monsters and beyond.
You can see from the table 4 (above) that DPR rises as number of HD advances (and thus as fighter level advances), as grows only
marginally
behind the growth in average hit points. Therefore, the average duration of a combat between any two evenly matched opponents increases only very slowly (as given in the average HP/DPR column).
It may appear, at first glance, that the referee will need to roll absurd numbers of d20s for the mega HD monsters. In practice, however, he is routinely required to roll dozens of d20s when dozens of orcs are encountered, so this isn't really any different.
And the outcome of all this is...?
TABLE 5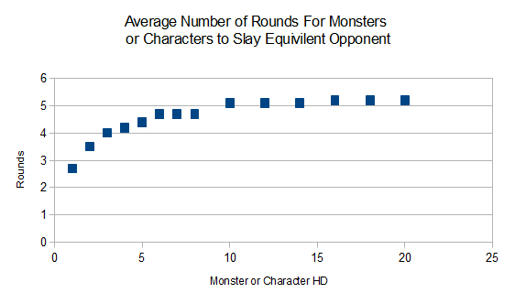 We see immediately that all equivalent challenges will take an average of 3 to 5 rounds to resolve, with the least HD contests being resolved
only somewhat
quicker that the most HD contests. A fight between 1 HD protagonists (including 1st level fighters) will take, on average, 3 rounds to resolve. A fighter between 9 HD protagonists (including 9th level fighters) will take, on average, 5 rounds to resolve.

Other Curiosities
(Off the top of my head)...
* When multiple attack rolls succeed, they can represent one "big hit" rather than repeated smaller hits if the referee deems it appropriate. E.g., if a Cloud Giant (12 HD) were to scores 3 hits the referee could rule it a single crushing blow worth 3-18 hit points.
* When faced by multiple opponents, a PC or monster can distribute attack rolls among them. Thus, a 16 HD elemental could attack 8 ordinary men in a single round as it crashed and thrashed its through them, or it could focus all of its fury on a single opponent (e.g., the wizard who conjured it), or any combination in between.
* If a monster has multiple attack modes, such as claw and a sting, the primary attack mode strikes on an even-numbered roll, and the secondary attack mode strikes on an odd-numbered attack roll (relevant if one attack type were poisoned and the other not, for example).
* Where monsters have the ability to swallow whole (e.g., purple worms) it is simply a matter of determining how many "hits" a required to make a swallow. E.g., a purple worm has 15 HD, and thus 8 attacks. If any 3 or more rolls are successful against a single man-sized opponent he is swallow whole. Perhaps only 2 or more successful hits are required to swallow a dwarf or halfling whole!
* Multi-headed Hydras have one attack per head which is typically twice as many as indicated by this proposal, but the heads can be slain individually which degrades the threat of the overall beastie.
* When a man-type wields two weapons simultaneously, the same scheme applies as for monsters with multiple attack modes. Even numbered rolls are right-handed hits, odd-numbered rolls are left-handed hits, and a natural 20 could results in two hits (thus 2d6 damage from the one roll).
* Where "pluses" are given to attack rolls, such as those due to enchanted weaponry, attack with surprise, and so on, these are applied once throughout the round. The player chooses which dice to apply these adjustments to *after* they have been rolled.
* Where additional damage or other harmful "effects" are caused (such as poison, fire, paralysis, and so on) these apply only once per round to any opponent struck. Where a player has divided his hits he may choose where to apply the additional damage.
That's all I can think of for now...
Enjoy!
edit: grammar.