Post by Starbeard on Dec 22, 2018 13:38:40 GMT -6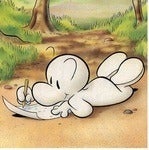 "Your post will still be available when you return," says the Archbishop. "Though I'm afraid she's just as likely to continue exploring the upper ruins alone until you return."
Saturday, August 28 (day 42)
The weather cleared up during your rest, but just today it started raining lightly again! Drat.
Mikhael, Grim and Taivel are now second level!
New Hit Dice are rolled:
Mikhael rolls 2d6 (6), and now has 6 hit points.
Grim rolls 2d6 (5), but his current is already 6, he gets +1 instead, for 7hp.
Taivel rolls 1d6+1 (2), but since his current is already 5, he gets +1 instead, for 6hp.


LIBERTY VILLAGE EXPEDITION
You have the Le Percepteur familiy necklace you donated to the Cathedral, and may leave for Liberty Village whenever you like, but your 1sp/day employment fee and expenses tab won't begin until you start your journey.
You're told that Liberty Village is to the east, in the sleepy valley called Rowan Glen. There are three primary ways to get there:
4-ish days: Cut east through the open fields to reach the independent tower of a lawful wizard, where you can follow a road through the Glen.
7-ish days: Take the road north to the castle of Mearcaster, vassal of Slumberlot, then follow the river until you get to the Glen.
12-ish days: Take the road to Meacaster, then stay on the road through Emberville country where it loops back to Liberty Village.
IMPORTANT!! MONEY AND TREASURE:
Taivel: 182gp, 5sp
Grim: 182gp, 5sp
Mikhael: 183gp, 1sp, 5cp
Sirravd: 184gp, 81sp
You can keep your treasure locked away in your rooms there while you're away (2sp per day instead of 3sp, since the Cathedral will be employing you for 1sp per day; only 1% of
attempted
burglary per day away), or you can keep some/all with the banker, who charges 5% on all deposits. If you choose to go back to Ye Knights Table Inn in Highchurch, then the room is free but there's a 5% chance per day of attempted burglary.
You will also need to let me know how much of your money you will actually be carrying with you, since that will affect encumbrance (by-the-book; you can see your current encumbrance in the character roster:
Google Doc link
)