danhem
Level 2 Seer



member is offline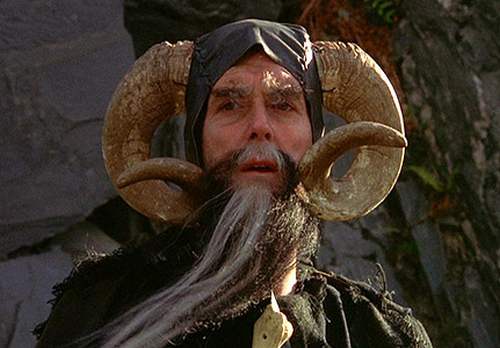 Joined: Apr 2009
Gender: Male


Posts: 26
Location: Ohio
Karma: 4
Re: 5: The Second Expedition
« Reply #120 on Nov 19, 2009, 11:37am »

---

Nestor closes with the beast and attempts to slice off one of its legs below the knee. Unfortunately his blade is turned at the last minute and he fails to cause any damage.

---
greenfielder
Level 0 Flunky
member is offline








Joined: Sept 2009
Gender: Male


Posts: 7
Location: Indiana
Karma: 0
Re: 5: The Second Expedition
« Reply #121 on Nov 19, 2009, 12:47pm »

---

Zulayman notes Jacques' donning of armor and impatience.

"Alive or dead?" he says to no one in particular. "This thing does not live?"

Seeing no target to shoot and few allies exiting the barn, Zulayman puts away his bow and arrow. He draws his dagger, places it in his teeth and follows Jacques up to the window above.

---

Burke's Searchers of the Unknown: Zulayman the Alchemist AC 5 (chainmail), MV 6, HD 2, HP 11, #AT 1, D 1d10 with falchion, 1d6 with bow, 1d4 with dagger. Items: 3 waterskins, small book of alchemical formulae, backpack, rope, 6 torches, 1 week iron rations, horse, saddle, saddlebags. Lvl 2, XP: 81, GP: 22.

salass00
Level 0 Flunky
member is offline





Joined: Aug 2009
Gender: Male


Posts: 1
Location: Finland
Karma: 0
Re: 5: The Second Expedition
« Reply #122 on Nov 19, 2009, 12:47pm »

---

Iseul quickly exits through the window and slides down the rope before the beast reaches his position.

---

Iseul the Thief

(AC7 MV9 HD1 HP8 #AT1 1d6 bow, 1d8 sword, 1d4 sling, 1d4 dagger)

Notes: XP 953, GP 368, backpack, lockpicks, waterskin, lantern, fire arrows, rope

horse, saddle, saddle bags, iron rations, 2 x water
eris
Level 4 Theurgist




member is offline









Joined: Sept 2009
Gender: Male


Posts: 144
Location: Pace, FL
Karma: 11
Re: 5: The Second Expedition
« Reply #123 on Nov 19, 2009, 1:02pm »

---

OOC: Sorry, to be absent, folks...work got crazy the last couple of days.


Nov 19, 2009, 3:19am, burke wrote:

Karl also shoots and hits the monster in the throat. It grunts, but does not seem much affected by the arrow.

[The undead take only 1 point of damage per normal arrow. Preparing fire arrows is possible, but requires oil or strong alcohol, cloth and one round per arrow.]

Iseul reaches the window.

[Does he slide down the rope? If so, he can do it before the monster reaches the window.]

The monster is ten feet tall and the walkway is 20' up and the window a couple of feet further, so it would seem that it cannot reach it from the ground floor.

There windows at regular intervals (all closed) along the walkway. The walkway goes around the whole building.

[New round. The monster has the initiative.]

The monster raises its hands towards the walkway, but realizing it cannot reach, it grips one of the large shovels from the racks along the wall.

[Romeo and Nestor are now close enough to attack.]


Karl shakes his head and slings his bow over his shoulder. He draws his sword and moves to support Romeo and Nestor.

"Surround it!" Karl shouts as he runs toward the beast, "Try to take its legs from under it. If we can make it fall it will be easier to deal with."

OOC: This is bound to *really* hurt!

---

Kelmult Dwarven Fgt-2
Olaf, the very lucky...so far! Human Fgt-2
Yusuf Kamal(Chainmail & Shield: AC 4, MV 6, HD 1, XP: 0, hp 6. #AT 1. 1d8 Sword, 1d6 Bow, 1d4 dagger x 2. Lucky Amulet, rations, waterskin x 2. GP: 0. [gold necklace & jewelry case with a few silver rings & bracelets...est. 70 gp])
kesher
Level 10 Necromancer







member is offline




Hobbyist of the Absurd & Recumbent Strategist





Joined: Jan 2008
Gender: Male


Posts: 2,327
Location: New Hope, MN
Karma: 93
Re: 5: The Second Expedition
« Reply #124 on Nov 19, 2009, 2:36pm »

---

Romeo runs full tilt, sword held down and out by his waist. Momentum propelling him, he impales the beast, pivots, and savagely rips his blade outwards in a spray of dessicated flesh and shattered bone!

d10 = 9!

---
burke
Level 2 Seer



member is offline




Joined: Dec 2008
Gender: Male


Posts: 45
Location: Helsinki, Finland
Karma: 10