thegreyelf
Level 9 Sorcerer







member is offline




Elf Lair Games: The New Class of Old School!





Joined: Jul 2008
Gender: Male


Posts: 1,307
Karma: 43
Elf Lair Games Free RPG Days
« Thread Started on Jul 7, 2009, 7:01am »

---

Since we here at Elf Lair didn't have our product ready for Free RPG Day, we would like to, as a gift to our fans, make the Deluxe Spellcraft & Swordplay e-book available FOR FREE from Wednesday through Friday of this week.

No strings, no catches: Wednesday, July 8 through Friday, July 10, head over to the Lulu store, and download the Deluxe edition of S&S for free!

This promotion will be followed by (as soon as I finish cleaning it up and designing a cover) the Spellcraft & Swordplay Basic Set, which will be 100% FREE in e-book format, and available in print for a very nominal cost. The Spellcraft & Swordplay Basic Set is a stripped-down (but complete) version of the rules, allowing for no Elite Paths and only the first three levels of play. It is 48 pages and 8.5 x 11 in size.

The Basic Set will be free in e-book format, permanently. We've had TONS of requests for a free starter kit version of the rules, and we've listened. I hope to have that available within a few weeks.

---
Finarvyn
Administrator


Dungeon Master
member is offline








Joined: Jun 2007
Gender: Male


Posts: 4,674
Location: Near Chicago
Karma: 178
Re: Elf Lair Games Free RPG Days
« Reply #1 on Jul 7, 2009, 2:09pm »

---

A very nice gesture, Jason. I think that we tend to focus on larger game companies on Free RPG Day since smaller companies typically can't afford to give away free product, so when a small company decides to do something like this it's big news.

Have an EXALT!

---

Marv / Finarvyn

DCC playtester (2011) C&C playtester (2003)

I'm partly responsible for the S&W WhiteBox

Builder of the

TrollBridge

Master of Mutants; MA since 1976

OD&D Player since 1975

"Don't ask me what you need to hit. Just roll the die and I will let you know!"

- Dave Arneson
thegreyelf
Level 9 Sorcerer







member is offline




Elf Lair Games: The New Class of Old School!





Joined: Jul 2008
Gender: Male


Posts: 1,307
Karma: 43
Kyrel
Level 6 Magician





Defender vs Spam
member is offline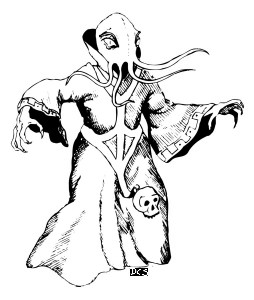 Joined: Jun 2007
Gender: Male


Posts: 488
Location: Florida Suncoast
Karma: 13
Re: Elf Lair Games Free RPG Days
« Reply #3 on Jul 9, 2009, 6:29am »

---

I really appreciate this, Jason. Money has been pretty tight for my wife & I for the past year or so, & I couldn't really get my hands on a copy of S&S (until now). I'm really impressed with what you've done, & look forward to getting my hands on a hard copy at some point soon.

Thanks Again!

---

"Second," the Grand Oon continues, "there is Kyrel, the Magic-User."