crimhthanthegreat
Guest

Re: Dungeonmaster's Index (by Dave Arneson)
« Reply #15 on Dec 7, 2007, 9:52pm »

---


Quote:

It makes me wonder -- if you make an index of someone else's product, at what point does it become yours and at what point is it kind of the property of the person who wrote the original product?

I'm not saying that Dave doesn't or shouldn't have the rights to this book (especially since he is credited as co-author for most of the material he is indexing) but the "big picture" question got me wondering.....



Well as far as we know TSR never contested it and unless we learn otherwise, as far as we know DA did not surrender it to TSR as part of settling his lawsuit. So if he reprinted it and started selling it again or as a pdf, would they (TSRs successors) have any basis to complain now 30 years late?
grodog
Level 7 Enchanter






member is offline









Joined: Jun 2007
Posts: 696
Location: Wichita, Kansas, USA
Karma: 27
Re: Dungeonmaster's Index (by Dave Arneson)
« Reply #16 on Dec 8, 2007, 10:07pm »

---

IIRC my literary law class in grad school properly, indices, concordances, and other such criticism-based reference materials are distinct from the original copywritten materials they're derived from (bibliographies would also fall into this category), and are therefore copyrighted by the compiler, not the original author.

---
busman
Level 6 Magician





member is offline





Playing OD&D, once again. Since 2008!





Joined: Mar 2008
Gender: Male


Posts: 393
Location: Los Angeles, CA
Karma: 10
Re: Dungeonmaster's Index (by Dave Arneson)
« Reply #17 on Apr 8, 2008, 3:17pm »

---

Did anything ever come of this? This sounds like an awesome resource to have. I'd happily undertake making this into a PDF that others could DL and use. Did we ever get a hold of Dave and see if 1) he had the rights, and 2) if he's willing to allow us to make a PDF?

---
busman
Level 6 Magician





member is offline





Playing OD&D, once again. Since 2008!





Joined: Mar 2008
Gender: Male


Posts: 393
Location: Los Angeles, CA
Karma: 10
Re: Dungeonmaster's Index (by Dave Arneson)
« Reply #18 on Apr 10, 2008, 7:50pm »

---

I say we do this ourselves, then. Create an Index, that is. I may start on this during the weekend, depending upon how my other 3 projects I've got in the cooker at this point. =)


---
grodog
Level 7 Enchanter






member is offline









Joined: Jun 2007
Posts: 696
Location: Wichita, Kansas, USA
Karma: 27
philotomy
Level 7 Enchanter






member is offline





Joined: Jul 2007
Gender: Male


Posts: 511
Location: Texas
Karma: 23
Re: Dungeonmaster's Index (by Dave Arneson)
« Reply #20 on Apr 15, 2008, 10:53pm »

---

I suggest defining it in XML and then using stylesheets to output the XML source-file to HTML *and* PDF. You can use Prince to do this kind of thing.

---
blackmoor
Level 4 Theurgist




member is offline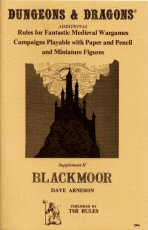 The First Dungeonmaster





Joined: May 2008
Gender: Male


Posts: 115
Karma: 50
Re: Dungeonmaster's Index (by Dave Arneson)
« Reply #21 on Jan 22, 2009, 5:32pm »

---

Yes I still have the rights. But the Index is far from being all inclusive since it contains none of newer OD&D products or the DRAGON. Or my own FFC or AIF. It was totally obsolete the years after it was published.

Dave Arneson
"Dark Lord of Game Design"

---
The Perilous Dreamer
Level 7 Enchanter






member is offline





Halenar Frosthelm





Joined: Aug 2009
Gender: Male


Posts: 510
Karma: 65
Re: Dungeonmaster's Index (by Dave Arneson)
« Reply #22 on Oct 23, 2011, 3:40pm »

---

There is a copy of this for sale on eBay right now. See link in my Ebay thread in the General Board. I don't know if the price is reasonable or not. Since Dave's heirs have the rights it would be cool if it were updated to include the later OD&D products, The Dragon, FFC and AIF.

---
Falconer
Level 9 Sorcerer







Cleric of OD&D
member is offline




OD&D, Middle-earth, Star Trek TOS




Joined: Sept 2007
Gender: Male


Posts: 1,338
Location: Chicago, IL
Karma: 51
Re: Dungeonmaster's Index (by Dave Arneson)
« Reply #23 on Oct 27, 2011, 2:23pm »

---

IMO, it doesn't need to be "updated." If it includes Chainmail, OD&D, the 5 Supplements, and the 7 Strategic Reviews, it's already a d**ned useful product.

Now, if we were to start a new project from scratch, yes, there are a handful more products I'd like to see included: Warriors of Mars, Lost Caverns of Tsojconth, FFC, TD up through about #6, Ready Ref Sheets, Dungeon Geomorphs.

---

Michael Falconer -

Old School Star Trek Role-playing

Do we walk in legends or on the green earth in the daylight?

A man may do both. For not we but those who come after will make the legends of our time. The green earth, say you? That is a mighty matter of legend, though you tread it under the light of day! —J.R.R. Tolkien